Our Story
A PEANUT OF LEGENDS.
Our secret family recipe has its roots somewhere in Bloomington, Illinois, smack-dab in the middle of the good ol' US of A. Russell Shirk packaged peanuts and other specialty nuts for the family restaurant/confectionary and two local liquor stores. With a catchy name and smart distribution, word got out and over a half-century later, the Shirks are still selling 'em across the land. In fact, we still produce all BEER NUTS products at our 100,000 square-foot facility in Bloomington. We think you'll agree that the unique sweet & salty taste continues to be beer's best match.
Want specifics? Read on…
1937
Just out of high school, Arlo Shirk—with the help of his pop, Edward—purchases the Caramel Crisp Shop in Bloomington. Known locally for caramel apples, caramel corn and orange drink, their redskin peanuts are what really keep customers coming back again…and again…and again…
1940
At age 22, Russell Shirk takes charge of the shop after his older brother Arlo's tragic and untimely death. Under his watch, each shop item—including the redskin peanut—must be fresh, prepared with the finest ingredients and served with pride.
1950
Russell packages the first bags of his redskin peanuts for a local liquor store, calling them 'Shirk's Glazed Peanuts.' Sales grow—and suggest a special connection.
1953
Russell teams up with Eldridge Brewster, a local potato-chip distributor, and they christen the brand 'BEER NUTS.' Sold to taverns and bars, BEER NUTS swiftly become an establishment staple, and, in Brewster's words, 'America's Favorite Nuts.'
1960
We're everywhere now. You can find BEER NUTS on every bar across the land. Even Alaska and Hawaii wanted to nosh on America's Favorite Nuts.
1972
We used the same sweet & salty recipe to coat the newest nut to our line—a no-brainer, and an instant success—BEER NUTS Cashews are introduced. Because our cashews come from India, this nut takes BEER NUTS to the fancier side of snacking.
1978
BEER NUTS Almonds are the next addition to the nut line—and they are a homerun. Truckloads of Almonds could be seen en route from California to Bloomington to get their 'sweet & salty' coating on. The addition of the Almonds created the BEER NUTS trifecta.
2002
Another round of new packaging hits shelves. Fans replenish their nut stashes and BEER NUTS nostalgia items are in demand. Even Norm from 'Cheers' can't get enough.
2006
We introduce BEER NUTS Original Bar Mix. How did we not think of this sooner? The perfect combination of all the best little barside nibbles: Sesame Sticks, Pretzels, our Insane Grain and of course, our hero, the Original Peanut. Cheers all around.
2017
This was the year to spice things up—Guacamole, Chili Lemon, Black Bean and Sriracha kinda' spices to be exact. Helloooo BEER NUTS Cantina Mix. The introduction of this fiesta in your mouth is well received by all types of taste buds.
TODAY
Still family owned, still the same secret recipe, still producing iconic snacks for fans worldwide. And to think it started with a little glazed peanut at the Caramel Crisp Shop…
IT ALL STARTED WITH A CORNER SHOP AND A FAMILY NAME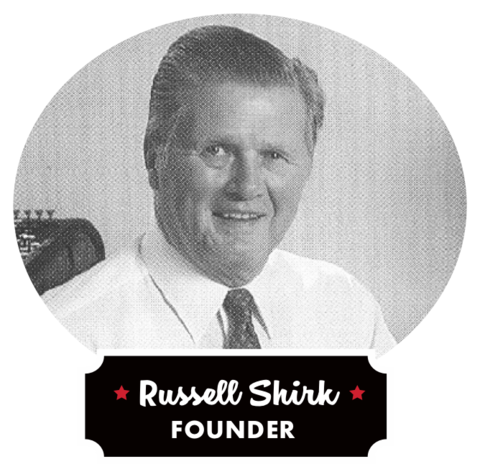 The founder of BEER NUTS as we know it today. Forthright and unpretentious—just like the snack itself—Russell was called into action with the death of his best friend and brother, Arlo. He managed and expanded the Caramel Crisp Shop with his family's help, and noticed that the redskin peanuts were selling like hot (cakes) nuts. After two years of arm-twisting, Russell partnered with potato-chip distributor Eldredge Brewster to sell 'Shirk's Glazed Peanuts.' Brainstorming over beers in the shop's backroom, they launched the product as BEER NUTS peanuts, which quickly became a staple in bars across the land. Risking it all, Russell closed the Caramel Crisp Shop and poured his energy into producing BEER NUTS Peanuts so everyone could enjoy the unique sweet & salty taste. And thus, beer's best match was born.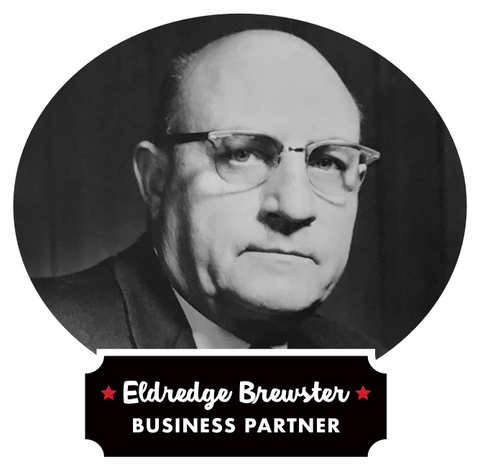 A local potato-chip distributor, Eldredge supplied the Caramel Crisp Shop with chips and condiments. During his frequent visits he sensed the magic of the peanuts Russell cooked in-house and sold by the scoop. With his experience serving taverns and bars—and as a big beer drinker himself— Eldredge knew there was a future for these nuts and convinced Russell to let him sell and distribute the product around the midwest. They renamed it BEER NUTS peanuts, and in a matter of months, they were popping up all over Chicago, Milwaukee, St. Louis and Indy. Their vision and determination paved the way for a true American classic.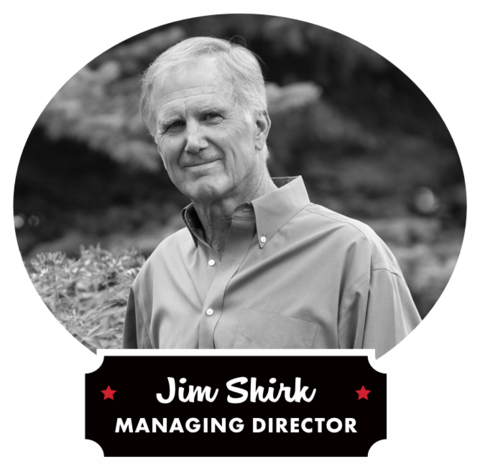 'Focus on what you're good at, and do it really, really well.' Jim was 9 years old in 1953. Growing up in the business, he kinda' knew he'd eventually work for it. As a kid, he'd watch—and occasionally help—his Grandfather Ed engineer the best way to produce and package BEER NUTS in quantity. Over the years, Jim developed his skills in business, law, sales and even engineering, taking the presidential reins in 1974. He steered BEER NUTS through nearly four decades of snack crazes, diet fads and the occasional peanut shortage. What's the secret to his success? Staying true to the original recipe and iconic BEER NUTS brand. Plus, 'A handful of nuts a day. They're pretty hard to beat. And you know, they really taste great with beer.'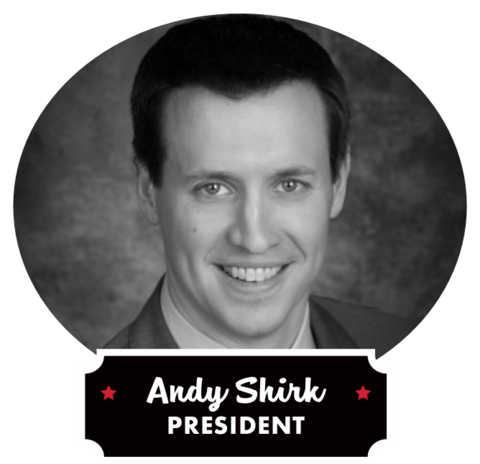 'Nobody's too good to do any job. It builds character.' As the youngest of Jim and Linda's four kids, Andy did the jobs nobody else wanted: sweeping the plant, breaking down boxes, digging dirt, what-have-you. And along with those character-building tasks, Andy also built a desire to run the BEER NUTS Nut House someday. After some real-world experience, a business degree and an overconsumption of entrepreneurial books (and Cashews), Andy assumed the presidency in 2015. Tackling his role head-on, Andy's enthusiasm and determination to supply the next generation with BEER NUTS is contagious. Has it changed him? 'I sure hope not. And I still sweep the floor from time to time.'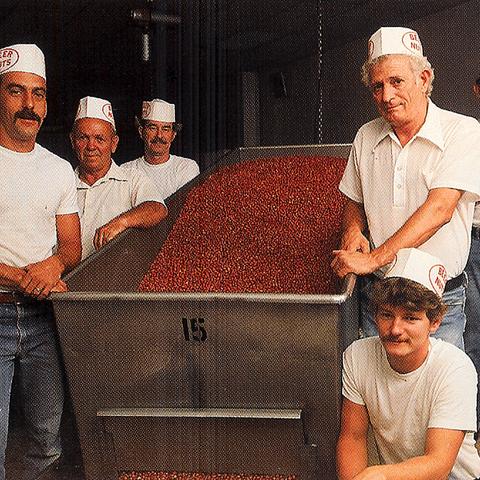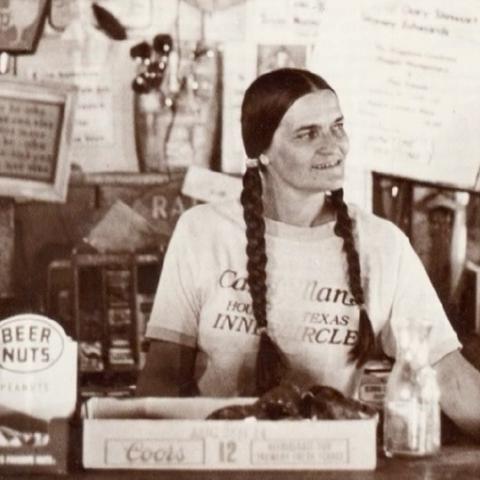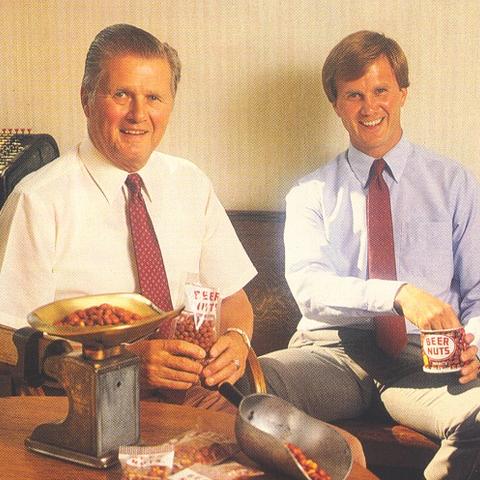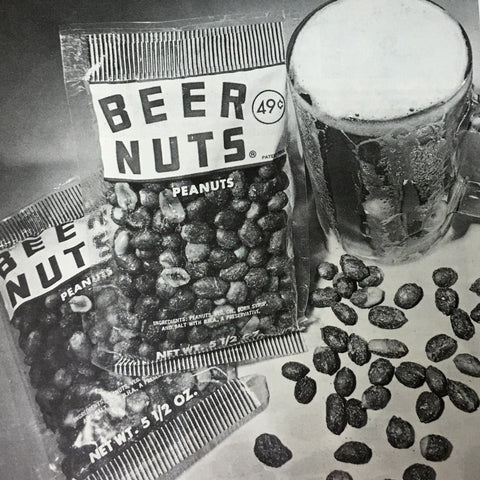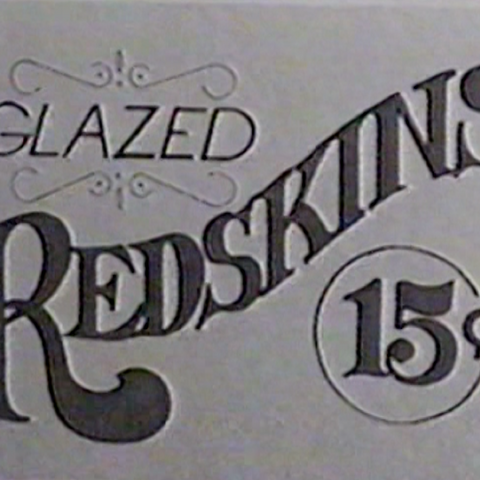 WE WELCOME YOU TO OUR NUTTY BEER NUTS® FAMILY.